Jerry Brewer
Biography
I am a native of Childress, Texas and a graduate of the University of Oklahoma's H. H. Herbert School of Journalism with a BA in Radio/TV/Film. I have worked in television production and taught Television and Film Production at Oklahoma City University while managing that school's television station.

I've worked in industrial films for the Texas Cattle Feeders Association, and for the National Cattlemen's Association. I published the Chillicothe (Texas) Valley News in the 1970s, served as Managing Editor of the Moore (Oklahoma) Monitor in the 1980s and published the Sentinel (Oklahoma) Leader in the 1990s.

I've written three books, two of which are in ebook form at Smashwords, "Dismantling The Republic" and "Unto The Churches of Galatia: A Commentary on Paul's Epistle To The Galatians." The third, "...Unto Thy People: The Story of Our Fathers" is a family history that was published in paper back in 2003.

I have also co-authored a book, entitled, "The Old Porter Place" which is a nostalgic collection of more than 50 brief true stories from the childhood of my cousin and me while we were growing up in western Oklahoma in the 1940s and 50s. "The Old Porter Place" is now available on Smashwords also.

I am married to the former Sherlene Holley of Carter, Oklahoma. We were married in her parents' home in Carter on May 19, 1961. We have six children, 16 grandchildren and two great grandchildren.

Four of our six children have taught, or are currently teaching at the University of Oklahoma, Southwestern Oklahoma State University, and the University of North Texas.
Videos
Dismantling The Republic
Promo for Dismantling The Republic at smashwords.com
Books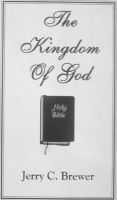 The Kingdom Of God
by

Jerry Brewer
The kingdom of God as revealed in the Bible, traced from God's purpose to an existing institution today.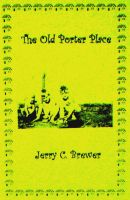 The Old Porter Place
by

Jerry Brewer
In a simpler world long ago, there was a farmstead east of Carter, Oklahoma known as "The Old Porter Place." Two cousins, whose grandparents lived there, take readers on a nostalgic journey through stories from their childhood more than a half century ago. Their tales of a close-knit family's enduring love resurrect a time that existed in their very own "land of Cavaliers and Cotton Fields.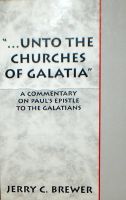 "...Unto The Churches of Galatia": A Commentary on Paul's Epistle To The Galatians
by

Jerry Brewer
A commentary on the New Testament book of Galatians. In his foreword, Harrell Davidson writes, "Every chapter a magnum opus! From the 'certified Gospel' in chapter one, to Christian duties in chapter six, he excelled. ...Chapter five will live on and on as he demonstrates with Scripture after Scripture the truth regarding the Holy Spirit.
Jerry Brewer's tag cloud