Brian E. O'Neill
Biography
Brian E. O'Neill is a retired Railroad worker who lives in Watervliet, New York. Husband, father and grandfather, he is a life long student and fan of basketball and other local sports in the Albany, New York area. Brian served in the US Army in the 50s, has been a long time member of the local Elks club and performed in a popular harmonica group around town for many years. He has taken a new calling in recent years, "reviving a lost art," the art of the perfect Free Throw.
Where to find Brian E. O'Neill online
Series
Books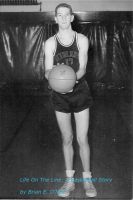 Life on the Line: A Basketball Story
by

Brian E. O'Neill
In 2005 I had back surgery. At 66, my rehab would be difficult. I joined a local gym and rediscovered the sport of my youth, Basketball. I couldn't run the court but I could throw up a Free Throw. In doing so I've developed my own technique, "The Net Technique" I invite you to see how my love of Basketball as a boy eventually led me to shooting 97% at 73 years young.
Brian E. O'Neill's tag cloud