Brian Burchik
Biography
Brian Burchik is creator and author of #LiveFully. He believes that followers of Jesus should live the most full lives on the planet. Prior to the creation of #LiveFully in 2011, Brian worked for 6 years as a student pastor at Grace Fellowship Church in Snellville, Georgia. He now serves as the Director of Generation Empower and is a certified youth ministry coach with 3DM. During his time as a pastor, Brian Burchik obtained a Masters in Transformational Leadership from Bethel Seminary in St. Paul, Minnesota (2011).

Brian and Erin have one child, Amyra, and are in the adoption process for three more kids. Brian is an avid coffee drinker with a weak spot for pop music.
Books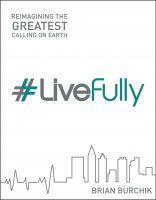 LiveFully: Re-imagining the Greatest Calling on Earth
by

Brian Burchik
We can hear about how much God loves us everyday, and that's great. But without a solid grasp of our role in the world, we'll naturally focus back on ourselves, getting stuck once again in our own pride or insecurity. To live with confidence, we desperately need vision for why we're here. If we're going to live fully, we must re-imagine our God-given calling on the earth.
Brian Burchik's tag cloud