Brian Dawtrey
Biography
Brian Dawtrey was born in 1928 to a motor engineering family in Coventry. He was evacuated after being injured in the Blitz and became a country lover - and a country-girl lover. He suffered from 'His heart rules his head' syndrome; which incidentally, so did Cicely and their three subsequent children.
They married immediately following military service at the age of 20 years, went together to Agricultural College and became family farmers for fourteen years, before uprooting their family and adopting a hazardous beginning to twenty-five years of Overseas Aid work in Africa.
Their immense love of nature led to Brian becoming an Honorary Wildlife Ranger for fourteen years and becoming a Chairman of the Wildlife Conservation Society of Zambia, whilst Cicely became the Education Officer of that Society. Cicely also raised many 'rescued' wild animals including a 'pet' cheetah, which travelled with her in her car in the market.
Their children also married young, two of them in Africa. There are now four great grandchildren.
Brian has been published widely in journals and periodicals for Societies, Zambia Government, World Bank and UK publishers.
Books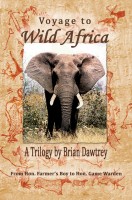 Voyage to Wild Africa
by

Brian Dawtrey
Follow Brian Dawtrey and his family as they adventure from rural England to the wilds of Africa; meeting foxes, chickens, elephants and lions along the way. Brian Dawtrey shares his witty and informative memoirs of a life less ordinary; joined by a colourful cast of friends and acquaintances, both human and otherwise.
Brian Dawtrey's tag cloud