Brian Gansmann
Biography
Brian's love of food began at a very young age, as his parents owned several restaurants and recently celebrated their 26th anniversary in business. He grew up learning to prepare, know, and love not just ordinary food, but great food. In fact, it was this early passion for wholesome cuisine that led him into the retail advertising industry. In 2008, Brian, his business partner, and a Swiss-born chef (who is a member of the American Culinary Federation) founded a successful brokerage firm that creates new items for a number of national retailers and shopping clubs. You may have even seen Brian on NBC, FOX, CBS, ABC, and QVC talking about the benefits of adopting an all-natural diet. His advertising tenure has also included working with the following companies: The Kroger Company, Robert Mondavi Wines, Idaho Potatoes, Hillshire Farms, Red Lobster, Sam s Club, and other well known food/beverage brands. Sometime over the course of working with these companies, Brian was appointed the Director of Marketing for Cedarlane Natural Foods, the second largest frozen organic food company in the nation. While at the helm of Cedarlane, he sold the first made-with-organic frozen line that Wal-Mart ever carried. Additionally, he worked one-on-one with Dr. Barry Sears, the author of the New York Time s Best Selling Book The Zone Diet. The Cedarlane Team and Dr. Sears advanced the development and launch of the Zone Diet frozen meals. These meals adhered to the rigorous standards set forth by Dr. Barry Sears in The Zone Diet and other books that he has written over the years. Brian eventually became the spokesperson for the entire Zone Diet frozen line, appearing with Dr. Barry Sears on several national and local mediums. Today, Brian lives in Denver, Colorado, with his lifelong partner. They have celebrated being together for over sixteen years. They are also the proud owners of two adopted dogs, Weimer, a Weimaraner, and Zoe, a Dalmatian.
Where to find Brian Gansmann online
Books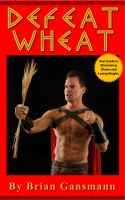 Defeat Wheat: Your Guide to Eliminating Gluten and Losing Weight
by

Brian Gansmann
Debut book by author Brian Gansmann~the Gluten Gladiator. Brian has Celiac disease and through living with this incurable condition, he has discovered a very unique way to live healthy and lose weight. Brian will show you very easy to understand techniques on how to properly eliminate gluten from your diet and be on the fast track to achieving the kind of body that only movie stars have.
Brian Gansmann's tag cloud