Bridget P. McDonnell
Biography
Bridget P. McDonnell was born in Ireland in the 1940s and grew up on a farm. Her training as a nurse enabled her to travel the world. She has lived and worked in eight countries and has traveled to many more. Having moved back to Ireland, she retired in 2009. She lives today less than twelve miles from the place where she grew up. Her story is told in the memoir, Where Did They Get You?, published by The Manuscript Publisher.
Where to buy in print
Books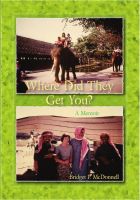 Where Did They Get You? a memoir
by

Bridget P. McDonnell
A memoir that charts the changing face of Irish society, as witnessed by one who was a member of the diaspora. It is both a travel and occupational memoir. The author's career in nursing spanned five decades and took her to over eight countries. It is also the story of personal triumph, overcoming adversity, drawing on the strength of her upbringing and her convictions in doing so.
Bridget P. McDonnell's tag cloud