Brittany Meyer
Biography
Hi my name is Brittany Meyer, an Alaska Native. I am Inupiaq. What I love is Sci-fi and Fantasy. Also some Young Adult books. I love to draw animals, especially wolves. I absolutely love to read considering it helps me get away from the real world and its problems. Writing is another thing I love because I can create my own stories that have meaning to me to share to the world. That is why I joined Smashwords; is to publish the stories stuck in my head wishing to squirm free. I also love animals. This being my passion, I want to become a veterinarian.
Books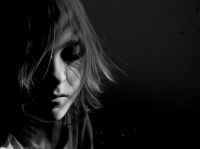 Darkness Consumes but Light Shines in the Darkest of Corners
by

Brittany Meyer
This is a collection of poems mostly on depressing topics. There are a few light ones. This is for those people who went through hard times that they think they cant get out of.
Brittany Meyer's tag cloud