Joséphine Traylor
Biography
When I'm not at work, I'm either in the city or on my farm, talk and read about Criminology and Law, play and listen to music of any and all genres, sing a lot, have a healthy (I swear!) obsession with movies and TV series, find time to read, like to write, love to cook, enjoy photography, rejoice in the beauty of nature, seek adventure when I'm given the chance to do so... and have really lame humor even though I do love to laugh! I am a good listener, I've been told, and use that ability to do volunteer work, mostly focused on talking to people from the LGBT community who are going through rough patches. I support our local cat shelter as much as I can as well, in their efforts to provide a home for those felines that never had or lost their homes. I got too attached to three unfortunate souls that I couldn't not adopt those and add them to our family. When I am online, I like to play a game of Heroes of the Storm, Hearthstone or Overwatch, but most often, you'll find me in Azeroth - World of Warcraft, where I am the Guild Master of a fun non-toxic casual raiding Guild.
Where to find Joséphine Traylor online
Books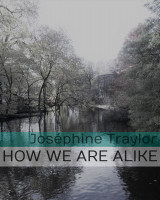 How We Are Alike
by

Joséphine Traylor
They parted hating each other immensely. Since Skylar Ainsley chose to move on from Thompson & Associates and ultimately Marie Thompson, though, the young woman seems to be holding the ropes of her own life again... that is, until her ex-boss and she meet again at a function several months after Sky quit. Different setting. Different circumstances. Different feelings? Maybe.
Joséphine Traylor's tag cloud