Bronwen Strembiski
Biography
If I can make even one person smile, then I have reached my goal for the day.

In a world of infinite possibilities, why settle for only one option in life?

As the years go by and the seasons change, I realize that there is no moment as important as the one I am in. The trouble is that this doesn't leave much room for figuring out what I want to be when I grow up. Perhaps it is the many masks that I've worn over the years; I have long ago forgotten who I am. What I do know is that I'm lucky enough to be a devoted wife and fun-loving mom.

After years in the fast-paced world of public relations, I now focus on being wife, mom, author, volunteer, crafter, speaker, mental health advocate. I devote my life to helping people understand the world of emotions, manners, and self-esteem.
Books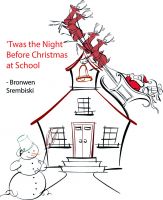 'Twas the Night Before Christmas at School
by

Bronwen Strembiski
What happens when a teacher realizes that the students' letters to Santa weren't mailed? A fun play on 'Twas the Night Before Christmas that every teacher should have. Make it a class activity by having your students draw pictures or have them write their own 'Twas the...poem.
Bronwen Strembiski's tag cloud