Ken Reeth
Biography
Ken Reeth (1938 – May 9, 2005) was a colorful and creative disc jockey well known to many hippies and rock music fans as Brother Love. Brother Love's Underground was radio show in the late-60's that was dedicated to psychedelic and underground rock music. It originated from Pittsburgh radio station WAMO-FM, with Reeth being its psychedelic DJ and emcee. It was also aired, via tape, on Dynamic Broadcasting which owned WILD-AM in Boston, WUFO-AM in Buffalo and WOAH in Miami.
While working at WAMO, which had a soul and R&B format, Reeth got the idea to do a show promoting the growing psychedelic rock music scene, mostly based in San Francisco and Los Angeles. Like Tom Donahue, his west-coast counterpart, he was one of the first to introduce listeners to Iron Butterfly, Country Joe and the Fish, Mothers of Invention, the early Doors, Jimi Hendrix, West Coast Pop Art Experimental Band, Vanilla Fudge and others. Although many of the artists on the show have been mainstays of classic rock stations for decades now, this was very adventurous radio programming at the time.
Ken was born in The Bronx, and moved to Allentown, Pennsylvania when he was a teenager. He was part of nightclub comedy team called Reeth & King and later a morning radio duo on WDRC in Hartford, Connecticut. He went on to WAMO in Pittsburgh and later to vice president of programming for Dynamic Broadcasting. He left Pittsburgh in 1973 for the west coast and bought KKAR, a country station in Pomona, where his on-air name was Romeo Jones.
Ken was a multi-published member of ASCAP, the American Society of Composers, Authors and Publishers and wrote the lyrics to dozens of recorded songs, including the Rockabilly Hall of Fame classics, Rockin Billy, Endless Love and Pity Me, featured in the international award winning film, "The Exiles". He also served on the Board of Directors of the Academy of Country Music and garnered several CLIO awards for writing and producing radio commercials. During a highly successful thirty year radio career, Ken authored countless newspaper columns, promotion pieces and hundreds of press releases.

A familiar voice to radio listeners in Pittsburgh, Boston, Miami and San Diego, Ken left a thriving radio career to nourish a lifelong hunger to write.
Books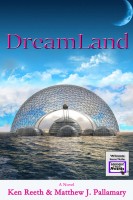 DreamLand
by

Matthew J. Pallamary

&

Ken Reeth
*Winner - Independent E-Book Award!* Fueled by breakthroughs in technology, the terminally ill can dream their lives away in pre-programmed situations of their choosing, controlled by a super computer. All goes according to plan until the dream of DreamLand is shattered by the profit-seeking backer of the project who plans to make the miracle of programmed dreaming into the ultimate theme park.
Ken Reeth's tag cloud