Woody Brohm
Biography
"The Apostles were given authority to establish and lead the early church. God has communicated to man in various ways such as through creation, through the prophets and His Son. However, nothing has been as explicit as the Holy Spirit working through an Apostle resulting in an inspired written explanation of God's previous methods of communication. While the previous methods may be correctly or incorrectly interpreted by some of us, the recorded teachings of the Apostles formulate sound doctrine. Their writings are contained within the canon of the New Testament. They will prove to be the only reliable conclusions for those who seek a proper understanding God's Message to mankind."

Brohm, Woody (2012-10-07). The Last Adam (Grace and Knowledge Series) (Kindle Locations 967-971). Brother Woody Brohm. Kindle Edition.

I took a hiatus from all media for about two years and focused on saturating myself with the Apostle's Teachings, the New Testament Letters. While I have an equal degree of respect for the entire Word of God, it sure was enlightening to isolate the Apostle's views on creation, Christ's Sacrifice, the role of believer's in this age, and the future glory. The benefit of this perspective is incorporated into the viewpoint of The Grace and Knowledge Series. The Last Adam is the first of the series and I am looking forward to adding to the series as time permits.

I am a firm believer in Salvation by Grace and Justification by Faith. May you grow in the Grace and Knowledge of the Lord Jesus Christ as you study His Word.
Books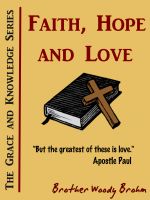 Faith, Hope and Love (Grace and Knowledge Series)
by

Woody Brohm
Spiritual gifts are given to believers to serve others. We are able to learn how to use them effectively by growing in the grace and knowledge of the Lord Jesus Christ. The Bible offers keys to success in this ministry. We will look back to the great people of faith and learn from their example.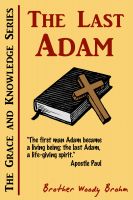 The Last Adam (Grace and Knowledge Series)
by

Woody Brohm
Just as Adam became the first of the natural creation, so also Christ has become the first of the New Creation. We will compare and contrast the two men of their respective creations. Because of sin, the natural creation is cursed and will be destroyed. Because of Righteousness, the New Creation will remain forever in the presence of God.
Woody Brohm's tag cloud