Bruce F. Meyers
Biography
Bruce F. Meyers joined the NROTC in 1942. He served as a platoon leader in World War II, a rifle company commander in Korea, and a commander of Special Landing Force Alpha on LPH Iwo Jima and of the 26th Marine Regiment at Khe Sanh. After twenty-eight years of service, he retired as a colonel in 1970 and entered the practice of law in Seattle as a trial attorney. He later served as an associate dean and associate professor of law at a West Coast law school.
Books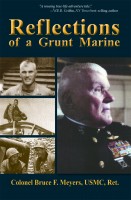 Reflections of a Grunt Marine
by

Bruce F. Meyers
Bruce F. Meyers was an active youngster. He entered the University of Washington's Navy Reserve Officer Training School and graduated as a 2nd lieutenant of Marines in 1945. Following battle action during the Korean War, Meyers spent much of his time in the Marines developing clandestine means to insert specialized troop units in the war zones.
Bruce F. Meyers' tag cloud