Greer Chesher
Biography
Greer Chesher has been a naturalist since a night almost 40 years ago when her father woke her from deep summer slumbers to watch her first meteor shower. Now, after working 18 years as a National Park Service naturalist and planner in five southwestern parks, she wanders the desert trying to sate an unquenchable curiousity about the natural world. Knowing she will never find all the answers, but enjoying the redrock journey, she and her faithful companion Bo the Adventure Dog live and write from beautiful downtown, Rockville, Utah.
Books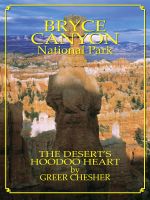 Bryce Canyon National Park: The Desert's Hoodoo Heart
by

Greer Chesher
Often humorously referred to as:"A hell of a place to lose a cow," Bryce Canyon National Park preserves one of the most astonishing landscapes in the American Southwest. Here the forces of erosion have sculpted a landscape that is among the most unique on all the world. Naturalist-author Greer K. Chesher delights the reader with her examination of this landscape's creation.
Greer Chesher's tag cloud