Rachael Carnes
Biography
Rachael Carnes spent her early years on the mean streets of Chicago, where she chewed a lot of bubblegum and rode her BigWheel everywhere. After moving to quiet Eugene, OR, she dedicated herself to the fine art of lying on her stomach and eating cereal from the box in front of the TV. After attending Reed College, Rachael wrangled Butoh performers in Seattle, started a business selling dance to parents in NYC, had a baby of her own, moved home, had another baby, and did more stuff. And ate more cereal.
Books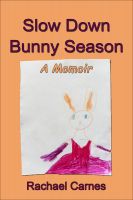 Slow Down Bunny Season: A Momoir
by

Rachael Carnes
Divulging the Great Secrets of the Known Universe, as gathered from a cumulative 47,000 hours spent wiping kitchen counters, 'Slow Down Bunny Season' connects the dots between stealing highlighter pens on a temp job in your twenties, and how to handle it when a possum dies under your house. It's mothering, the way mothering was meant to be told: with laughter and tears. Mostly tears.
Rachael Carnes' tag cloud