Jo Schneider
Biography
Jo Schneider grew up in Utah and Colorado, and finds mountains helpful in telling which direction she is going. One of Jo's goals is to travel to all seven continents—five down and two to go.

Another goal was to become a Jedi Knight, but when that didn't work out, Jo started studying Shaolin Kempo. She now has a black belt, and she keeps going back for more. An intervention may be in order.

Being a geek at heart, Jo has always been drawn to science fiction and fantasy. She writes both and hopes to introduce readers to worlds that wow them and characters they can cheer for.

Jo lives in Salt Lake City, Utah with her adorkable husband, Jon, who is very useful for science and computer information as well as getting items off of top shelves.
Books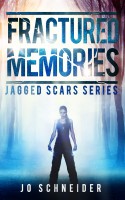 Fractured Memories
by

Jo Schneider
Sixteen year old Wendy never knew the world before the Starvation. When the Skinnies attack her compound, she is the lone survivor. Injured and near death, Wendy is rescued by a mysterious man named Mike. His people take her in, but Wendy soon discovers evidence that these people might be the ones who killed everyone she knows.
Jo Schneider's tag cloud