Rudy Nato da Mata
Biography
Born in Durban, South Africa, Rudy Nato da Mata travelled to Switzerland, where he wrote his first novel: Bushfire. The sequel, African Cyclops, is currently being edited for publication. He is also developing movie script he wrote titled The Last Rain Queen. Bushfire, a thriller about conspiracy theories has just reached the marketplace.
Books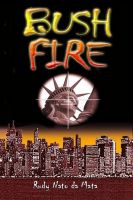 Bushfire
By
Rudy Nato da Mata
Price:
$6.00 USD.
Words: 124,800. Language: English. Published: September 12, 2011. Category: Fiction
Diane Susy-Noid, a journalist, finds herself in the grip of a terrifying nightmare when a company releases a computer game in her name. In her attempt to solve the prolem, she is instantly sucked into a world of deception and murder from which there is no escape.
Rudy Nato da Mata's tag cloud