C.C. Coats
Biography
C.C. Coats was born and raised in the 'City of Brotherly Love & Sisterly Affection', Philadelphia, PA, where she now resides with her children. She completed her B.A. in Psychology at The Pennsylvania State University, and her M.A. in Clinical Counseling Psychology- Marriage & Family Therapy at La Salle University. She works with homeless and run-away youth, and believes that it is our responsibility as living, breathing sentient beings to fight against injustice.
Books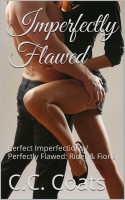 Imperfectly Flawed: Tell Me No Lies: Volume 1 & 2
by

C.C. Coats
Rider: I've loved Fiona since the moment I saw her but I pushed her away. Now she's back to remind me of what I gave up. This time I won't let her go. Fiona: Rider was my soul mate until he threw everything we had away. Maybe I'll forgive him enough to rekindle the friendship. I trusted him once. I won't do it again.
C.C. Coats' tag cloud
C.C. Coats' favorite authors on Smashwords