C.F. Williams
Biography
Influenced by Han Christen Anderson, The Brothers Grimm, and other authors of pleasant and horrifying fairy tales, I hope readers enjoy my works. Unfortunately, I can only write a fraction of what I can capture in my net because an active imagination can be as flighty as hummingbirds and butterflies.
Books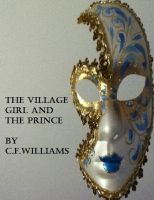 The Village Girl and the Prince
by

C.F. Williams
This is a fairy tale about Catherine, a foul mouthed girl. Her mother doesnt know what to do with her until one day her mother seeks out help which may have consequences that change Catherine's life for better or for worse. Intended age group up to about 10 years old.
C.F. Williams' tag cloud