CIES Media
Publisher info
The Canadian Institute for Enneagram Studies, a non-profit and social business organization, was created with the vision of contributing to the encouragement and support of conscious awareness in human relationships – with each other and with ourselves. The CIES aims to focus on the wholeness of who we are, inclusive of our differing perspectives, at once recognizing and operating from community and individual unity and, as our name implies, making the Enneagram a central tool in supporting that work.
Where to find CIES Media online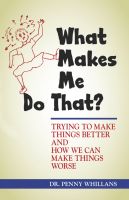 What Makes Me Do That?
by

Penny Whillans
Trying to Make Things Better and How We Can Make Things Worse
CIES Media's tag cloud