CJLledo
Biography
Having respectively worn the caps of groom, instructor, trainer, stud and stable manager: CJ started her career with horses at age nine, cleaning tack in lieu for pony rides. By age twelve, she worked as a part time groom for a riding school on weekends and holidays, and was fired from a dealing yard at age seventeen for advising clients not to buy a problem horse. She then worked herself into the position of assistant manager of a Quarter Horse stud by age nineteen: And at age twenty-four, was short-listed by some of the top studs: finally accepting the position of stud manager on the biggest Friesian horse stud in the southern hemisphere: where she managed just shy of two hundred Friesians. It was during this time that her ability to profile horses became paramount.
With family life: the need to cut back on hours saw her focus more on instruction and training rather than management. Where she has since laid the foundation for numerous youngsters, both human and equine, to succeed in whatever facet of the sport they selected: and although not competitively minded, she has held numerous local, regional and national titles
Books
Gifted Shozan
by

CJLledo
Ever since Tabari could remember, she's known that she was different from the other girls. Yet it was only once she was old enough to understand what made her so, that she understood why people feared her presence, and the danger it brought them. Yet, a desert born with green eyes and an affinity for horses cannot move within the desert, without discovery.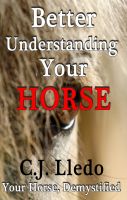 Better Understanding Your Horse
by

CJLledo
Unlocking the mysteries surrounding your horse's behaviour: helping you to better understand and manage it.
CJLledo's tag cloud