C.J.R. Watkins
Biography
As an artist and biblical researcher, C.J.R. Watkins writes seamlessly weaving Scriptural precepts far beyond his Theology degree, remaining confident that the source of his inspired works will continue to completion until the end of days. In his stories, he incorporates his travel experiences from halfway around the globe with a tireless imagination for embodying characters of dauntless courage, effectively using their time, ever learning to walk circumspectly because the days are evil. Within his extraordinary settings the cast of characters demonstrate indomitable strength overcoming error with humility and intrepidness.
Where to find C.J.R. Watkins online
Books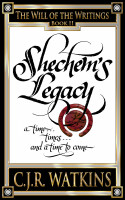 Shechem's Legacy, a time... times... and a time to come
by

C.J.R. Watkins
Shechem understood the pathways to resist the wicked but never imagined 2,800 years later his legacy would culminate in Jesse, who, not by choice, stood on the brink of survival as his mother and sisters stared in anguish, striving to conceive how their champion could wrest victory while entangled in the underbelly of corruption. But to win would incite the darkest evil to exterminate them all.
C.J.R. Watkins' tag cloud