C.L. Clark
Biography
C.L. Clark is currently earning a Bachelor of Fine Arts in Creative Writing. He is a novelist focusing on drama, romance, and some nonfiction. Throughout his short life, he faced the challenge of becoming an amputee at a very young age. While recovering from many of his surgeries, his family would read to him. When he learned to read, it became his escape. When he learned to write, that, too, became another escape. Almost everything he writes has a few pieces of his life in it. Whether it be a name of a character, or a certain dynamic between characters. A few of his very first short stories, written in his high school creative writing class, were based on the relationship he believed he would have had with his younger brother if he had been born. When Clark is not working or writing, he volunteers in a Special Ed classroom and speaks in various K-12 classrooms about his life.
Where to find C.L. Clark online
Books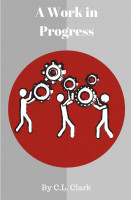 A Work in Progress
by

C.L. Clark
Price: Free!
Words: 2,520.
Language: English.
Published: January 25, 2018
. Categories:
Fiction
»
Inspirational
'A Work in Progress' is a collection of three short stories in which the main characters are going through some life-altering situation. Some, though, are more severe than others. Each character, miraculously, gets through their struggle better off than they were at the beginning of the story. If you want a story that will inspire you to keep moving forward, 'A Work in Progress" is for you!
C.L. Clark's tag cloud