C.L. Cleveland
Biography
C.L. Cleveland has traveled to the farthest reaches of the Continental U.S. and Canada. He also tended bar for many years. Whether sitting at a bar as a customer or serving drinks from behind one, C.L. has always endeavored to coax the most outlandish anecdotes from the barflies in his presence.
In his latest novel, The Forsyth Double-Cross, C.L. weaves the yarns he's been told into a composite narrative. The names in the book have all been changed to protect the guilty.
C.L. graduated from the University of Montana with degrees in English Literature and Philosophy. He currently resides in Missoula, Montana.
Books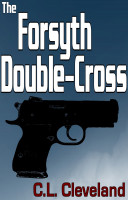 The Forsyth Double-Cross
by

C.L. Cleveland
A young Zach Taylor murders a man in a premeditated crime of passion, and he gets away with it. News of Zach's murderous deed sparks the interest of a small-time mob boss who offers Zach a job as his bookie. Zach also meets the boss's wine swilling ex-wife and they get along better than they should. Zach begins climbing the mob's ladder while descending into a world corrupted by lust and betrayal.
C.L. Cleveland's tag cloud