C. M. Smith
Biography
C.M. Smith was born in Dade City, FL. She currently lives in Osthemo, Michigan with her cat, Simba. Ms. Smith enjoys writing for her friends. If she sees a story in them she will pull it out and put it on paper.
Ms. Smith is obtaining her Bachelors of Fine Arts Creative Writing for Entertainment from Full Sail University.
She mainly writes children and young adult books, but she will writing other things, if she feels the Lord leading her to it. She gives all of her creative writing ability to Christ and she hopes to spread his word in each of her books.
Books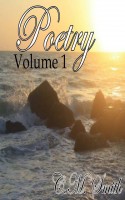 Poetry Volume One
by

C. M. Smith
This is a collection of over sixty poems that I have written over the years.
C. M. Smith's tag cloud