C. R. Swainward
Biography
Apart from writing, C. R. Swainward is a visual artist who, even as a child first discovering books and the wonders of deep-Space photography, was as fascinated by storytelling as by the universe itself. The author's Encounter series, first installment of STATIC, with its ever-expanding vision of the cosmos and its transcendental views of existence, came to mind one evening while the author was star-gazing and considering both the mysteries of the universe and the meaning and purpose of human life. Swainward holds a bachelor's degree in theology and religious studies, has taught painting and music theory in the West Indies, and now in addition to writing, works as a professional healthcare provider in post-operative surgery.
Where to find C. R. Swainward online
Books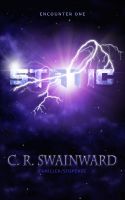 Encounter One - Static
by

C. R. Swainward
"Encounter One – Static" launches a science fiction trilogy that envisions a universe both physical and otherworldly in its infinite realities. The reader will experience a new take on alien invasion. But what will become of mankind, aliens and the entire universe after the sentient beings known as the Syzzack arrive on Earth? The answers lie here in "Static."
C. R. Swainward's tag cloud