Clarence Robert Tower
Biography
Clarence Robert Tower is a lifelong resident of California's Silicon Valley. As an accomplished artist, he takes on the task of writing with the deep-seated philosophy that scenery and actions can be captured with words, as skillfully as an artist captures scenery on canvas. In addition, he recognizes that a sense of rhythm is essential to easy reading. With that conviction, he went forward with the writing of his earlier book, Seventy Years in the Silicon Valley, an Anecdotal History. With the same philosophy as a constant guide, he eagerly took on the task of writing this current book, The Adventures of Zack Gentry.
Where to buy in print
Books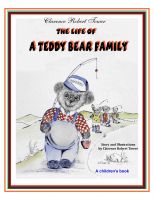 The Life of a Teddy Bear Family
by

Clarence Robert Tower
A very special teddy bear family has three very special adventures. They go fishing, to the County Fair, and on a ride to take photographs. They are special teddies because they have been given the gift of life.
The Adventures of Zack Gentry A Tongue-in-Cheek History of the Opening of the West
by

Clarence Robert Tower
Zack Gentry is not your typical western hero, but he does have some exciting adventures during the era when America was expanding westward. In his travels Zack meets some famous people like Kit Carson, Mark Twain, Wild Bill Hickok, Wyatt Earp, and Calamity Jane, to mention a few. This is an encapsulated history of actual events and people, with a little bit of legend thrown in.
Clarence Robert Tower's tag cloud