Christopher T Banks
Biography
Christopher Banks lives with his wife, Emily, on a farm in Northeast Oregon. They grow wine grapes commercially. Writing primarily in the winter months, Chris now has two novels: Getting Rid of the Macons and, available soon, Freddy the Bottleman.
Books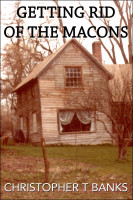 Getting Rid of the Macons
by

Christopher T Banks
A young couple from Albuquerque, Joe and Ellie Lawrence, arrive at their new home in very rural Eastern Oregon to find the former renters still in residence and firmly entrenched. When the Lawrence's develop strategies to get rid of them they soon find that moving amongst the Macons is like working in quicksand, the more that you move the deeper in you sink.
Christopher T Banks' tag cloud