Bob Donohue
Biography
Dr. Bob Donohue and wife, June live in New Mexico. He is a Baptist Minister, a Part-time University Instructor, conducts Bible Studies for Truck Drivers, and leads Congregational Music for a local church. He served in the Army Reserves, and attended two years of college at New Mexico Military Institute. He has a Bachelors and a Masters degree in Experimental Psychology from University of Texas at El Paso, and a Doctor of Ministry degree in Church Administration from California Graduate School of Theology in Fullerton. He is the Proprietor of CounterTerrorism Consultants, which has produced his first E-Book in a series, through Smashwords. The series deals with the threat of terrorism against various segments of American society. He has studied counter terrorism since 2006, when he became concerned about the safety of churches. In time, the studies grew to include many other institutions such as industry, schools, families, and critical infrastructure such as water, transportation, agriculture, power and government agencies. Committed to conservative values, the Constitution and Biblical principles, his goal is to make a difference by strengthening our defenses.
Where to find Bob Donohue online
Books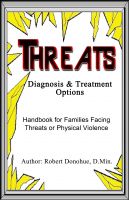 Threat - Diagnosis and Treatment Options - Handbook for Families Facing Threats or Physical Violence
A handbook designed for families facing threats or who have experienced physical attacks. The book shares ideas on how to block criminal activities, and how to cope emotionally. Topics reviewed include assassination, hostage-taking, arson, kidnapping, drive-by shooting, safety in church nursery and in school, weapons and permits, legal issues of using lethal force, and effects on the neighborhood.
Bob Donohue's tag cloud