C.T. McMillan
Biography
Growing up in Florida and attending military school, C.T. learned a great deal about history, and became fascinated by the world's conflicts. It was not the violence that drew him, but the majesty of antiquity, the scale to which soldiers fought on scarred landscapes with ornate arms and armor. From Polish Hussars to the Vikings, C.T. drew upon a number of elements from a variety of cultures to incorporate into his burgeoning writing career. To hone his skills and learn the art of storytelling, he enrolled at Full Sail University where he graduated with a B.F.A. in Creative Writing for Entertainment on June of 2015. From there he started a film review blog, using his limited knowledge of movies to critique new releases. Recently he started reviewing Punisher comics, his favorite superhero, and writing editorials on a variety of topics. Sometimes he delves into script writing just for the fun of it. He published his first book, Back to Valhalla, on Amazon Kindle and worked as a formatter at Big Bend Productions.
Where to find C.T. McMillan online
Books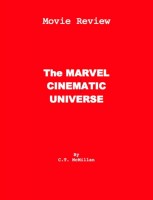 Movie Review: The Marvel Cinematic Universe
by

C.T. McMillan
Writer and self proclaimed film critic C.T. McMillan reviews and analyzes each movie and television series of the Marvel Cinematic Universe in preparation for the release of "Avengers: Age of Ultron".
C.T. McMillan's tag cloud