Cable Black X
Biography
Me? My name is Cable Black. I have a degree in political science (the philosophical side), and a master's in Liberal Studies (Creative writing). My project in that revolved around my passion which is image and mind theory (brain stuff). I am full time staffed English Teacher at a prestigious private High School in Japan. Blah blah blah, some stuff about military intelligence, some IT BS... What it all boils down to is that I am not trying to be the type of writer many people attempt to mimic. I am me, like it was meant to be. My passions are wide and all encompassing. Bear with me, the writing I produce may not seem to be going anywhere, but I have tendencies to progress a story through stages, and improve upon my own ability.
Where to find Cable Black X online
Books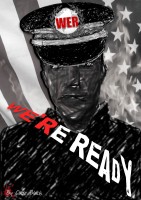 We're Ready (The Journal of Cable Black)
by

Cable Black X
A lazy military man wakes up to find himself in a chaotic United States. He intended to miss a mandatory deployment by hiding away in his barracks room closet. The world around him in pieces, as political tensions and civil war engulfs America. We are brought into this story through the evolving mind and journal of this young man as he grows in both character and writing ability.
Cable Black X's tag cloud