Christopher G. Bremicker
Biography
Special Forces medic, 1968 to 1970, stationed at Ft. Bragg, NC; BA in English and MBA from University of Minnesota and course work in business education at University of Wisconsin-Superior; fisherman, grouse hunter, downhill skier, handball player; customer service at Walgreen's, hometown: Cable, Wisconsin.
Series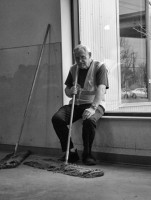 Bought the T-shirt
by

Christopher G. Bremicker
Novels, in story form, and plays about family, friends, the outdoors, work, theater and an illness take the reader on a journey of personal growth. We don't grow alone.
Books
Christopher G. Bremicker's tag cloud