Candace George Thompson
Biography
Candace George Thompson is the daughter of a career Air Force Officer whose first mission was on D-Day, June 6, 1944. She was born in Kentucky, as were both her parents, and like most service families, hers moved frequently. By the time she started the 10th grade, she had changed schools 13 times. After graduating from college with a B.A. in Spanish Lit., she served in Venezuela as a Peace Corps volunteer. After returning, she lived in Vermont, San Francisco, Portland, Oregon, and New Jersey. Candace and her husband have now lived in Chicago for over 30 years. She's happy to have finally found a hoome.
Where to find Candace George Thompson online
Books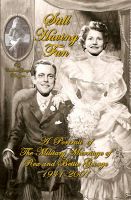 Still Having Fun: A Portrait of the Military Marriage of Rex and Bettie George 1941-2007
by

Candace George Thompson
This remarkable biography of a military marriage which lasted from 1941 until 2007 includes everything from letters written in war zones to photographs that chronicle the lives and romance of Rex and Bettie George. Written by their daughter, Candace George Thompson, after their deaths, "Still Having Fun" is a moving testament to the character and resilience of American military families.
Candace George Thompson's tag cloud