Christina Christian
Biography
Christina Christian lives in the Pacific Northwest with her husband, and still thinks her parents aren't half as clever as they think they are, and may be too fond of alliteration (you should see her middle names!) She's been an avid reader her whole life - especially of fantasy - and now loves to share her imagination with the rest of the world. Especially the dirty parts of it.
Where to find Christina Christian online
Books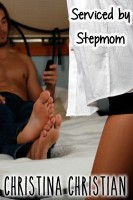 Serviced by Stepmom
by

Christina Christian
Axel McNeal has a problem. Ever since his girlfriend dumped him right before he left college for summer break, he's been unable to... 'find release.' Little does he know that relief is coming for him, in the last form he would have expected: his stepmother, Erika.
Christina Christian's tag cloud