Bryan Ratushniak
Biography
Bryan N. Ratushniak
Bryan is an accomplished actor, having performed in more than 30 commercials, and a video/film producer. His first production was the award winning children's video ' Firetrucks and Firefighters'. In October 1997, the video received a Canadian Children's Book Centre Choice Award. Bryan's latest project is a documentary entitled ' Iron Men, Wooden Ladders', a story of heroism during the Great Toronto Fire of 1904, was broadcast on Canadian Learning Television.
He is also a subject in an HD/Imax production "T.O. in 24" which premieed October 7th 2010 at the TIFF Bell Lightbox Theatre in Toronto.

Bryan has been writing and perfoming music professionally from the age of 15, and wrote and recorded the music for "Firetrucks and Firefighters" and "Iron Men, Wooden Ladders".

Bryan Ratushniak is Captain on Pumper 344 for the Toronto Fire Services after having served on Pumper No.314, serving the Yonge and College area of the city- the busiest in the city running more than 4500 emergency calls a year.

Bryan joined the Toronto Fire Department in 1985. From 1985 to 1997, his professional experience as a firefighter was honed working at Station No.7, the busiest firehall in Canada located in Toronto's Regent Park.

Over the course of his 25-year career as a professional firefighter, Bryan has been recognized by the City of Toronto with two citations, both for lifesaving rescues on the job. Most recently his latest dramatic rescue was caught live on television when a man set himself on fire during a political rally at Queen's Park. The man is alive and well.

Currently he is training for his first Marathon, and enjoys old movies and hiking.
Books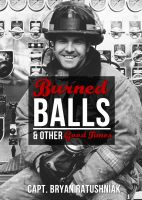 Burned Balls and Other Good Times
by

Bryan Ratushniak
(5.00)
Burned Balls and Other Good Times is an account of twenty-five years of the life of a Toronto firefighter. The stories are written much like a diary. It's unedited,opinionated and raw. But the stories are true. Some are funny. Some are disturbing as hell,but all are the things the author has lived through,by the grace of God some just barely, and how he's paid in both physical and mental pain.
Bryan Ratushniak's tag cloud