Carol Olivieri Schulte
Biography
Carol Olivieri Schulte began her writing career with a humorous outlook on everyday experiences, a weekly column entitled, Can You Beat That?

Ghosts became her next topic of interest. After NBC re-created the story of her family's haunted house in the "In Search Of…" series, she compiled twenty-five stories about Ghosts on the Coast of Maine (published by Down East Books).

In the course of writing that book, another was unfolding on a daily basis. Ms. Schulte recorded some highlighted events of her "wild and crazy" family, and created a rib-tickling, real life saga of food, family and Catholic school, in 600 Crises Or Growing Up Italian.
Books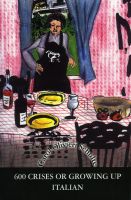 600 Crises or Growing Up Italian
by

Carol Olivieri Schulte
Jane Curtin of "Saturday Night Live" did not want to talk about her high school days on the "Tonight Show", but author Carol Olivieri Schulte has taken the plunge and done just that, in her latest book. School was an important part of the Italian way, as well as food, and family. Enjoy the minute-by-minute crisis comedy, written in the delightful manner of a person who's been there.
Carol Olivieri Schulte's tag cloud