Carolyn Cobelo
Biography
Healer, artist, filmmaker,and spiritual teacher, Carolyn Ewing Cobelo brings to us her wisdom and personal experience about life after death, healing the soul, the power of sacred space, sacred travel, soul evolution and soul love relationships. She is the founder and president of Akasha Entertainment, a multi-media production company which is devoted to creating spiritual books, CDs, films, and DVDS that uplift human consciousness and facilitate our passage through these turbulent global changes. This ebook is about Carolyn's own experience of her communication with the spirit of her husband just after he died in a car accident.
Where to find Carolyn Cobelo online
Where to buy in print
Books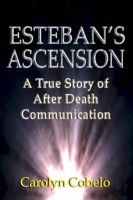 Esteban's Ascension: A True Story of After Death Communication
by

Carolyn Cobelo
This true spiritual adventure tells the story of spiritual teacher Carolyn Cobelo's communication with her husband's spirit just after he died and her subsequent reunion with him on the Other Side. Inspired by the work of transpersonal psychology pioneers, such as Raymond Moody, Carolyn offers readers a guide to discovering the world of ESP, spiritual telepathy and after death communication.