Carrie Ann Correa
Biography
Carrie Ann Correa is a California Author and Illustrator with a strong emphasis in painting with a surrealistic flavor. Can someone say Salvador Dali! Carrie has been drawing and writing from an early age. Her interests are fantasy, mythology, and science. Her love of science fiction grew widely as a young person. With influences of Star Trek, the works of J.R.R Tolkien, Greek, Roman, and Egyptian mythology, as well as Jules Verne. When Carrie is not writing or creating an artful painting she cares for her young daughter Elizabeth who also is inspired to be an artist/illustrator. Her series is called Tangle-wood Kingdom of the Forest Spirit. It spans over 4 books in which Reni the protagonist has various adventure in the mysterious world of Terra. Something is always pulling Reni back to the Tangle-woods.
Where to find Carrie Ann Correa online
Books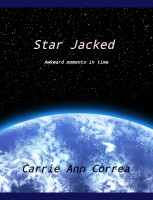 Star Jacked Awkward Moments In Time
by

Carrie Ann Correa
After Mason Bowman's fathers mysterious disappearance while gone on business. Kate, Mason's mother moves them from their home in Dayton, Ohio to a place called Big Bear Lake City, California where things get weird.
Carrie Ann Correa's tag cloud