Carsten Wieland
Biography
Dr. Carsten Wieland is a historian, political scientist, and journalist. He last worked and lived in Syria from 2003 to 2004 and speaks Arabic.
Before that, Wieland reported from the United States, the Middle East, and Latin America as a foreign correspondent for the German Press-Agency (DPA). In 1994, he also worked as a freelance journalist in Sarajevo during the Bosnian War. Wieland studied at Duke University in North Carolina, Humboldt University in Berlin, and at Jawaharlal Nehru University in New Delhi.
After returning from Syria, he worked as a senior executive at the Goethe Institute in Cairo and Munich, and is currently working in Washington DC as a political consultant with IFOK (Institute for Organizational Communication), and as a research fellow at Georgetown University.
Books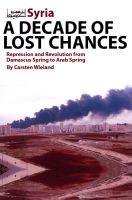 Syria - A Decade of Lost Chances: Repression and Revolution from Damascus Spring to Arab Spring
by

Carsten Wieland
Syria's President Bashar al-Asad was an outspoken opponent of the US and Israel. In March 2011 when Arab Spring came to Syria, Bashar reasoned that his support among Syrians was deep and wide because, as he told the Wall Street Journal a few weeks earlier, he was "closely linked to the beliefs of the people." He was dead wrong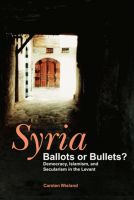 Syria - Ballots or Bullets?
by

Carsten Wieland
Syria - Ballots or Bullets? is a must read for anyone who wants to understand the social, economic, and political makeup of this pivotal Middle Eastern country.
Carsten Wieland's tag cloud