Margot Wilson
Biography
Margot Wilson is an anthropologist recently retired from the University of Victoria in British Columbia, Canada. Over the past 30+ years, Margot has undertaken anthropological research in South Asia. She has lived in a bamboo hut with no running water or electricity in a rural village in northwest Bangladesh, learning to be a village woman by living as one. She has also undertaken research at a shelter for abandoned women and children in Dhaka (the capital city) and at the Danish-Bangladesh Leprosy Mission in rural northwest and central Bangladesh. She has published a number of research papers based on that research and two books based on women's narratives. These include: Daughter of the Spirit and Beyond Ideas of Wrong Doing that are available through Castle Carrington Publishing. More recently (since 2014), Margot's longstanding research interests in gender, personal narrative and life story telling have led her to undertake life history research in collaboration with elders in the Canadian and American transgender communities. Girl in the Dream is the first in what is expected to be a series of life histories of transgender elders; the life story of Stephanie (Sydney) Castle Heal, a Canadian transgender woman and early advocate for the rights of transgender people, especially those incarcerated in the Canadian prison system. Despite her training as an academic, Margot's writing style is clear, engaging and definitive, unencumbered by jargon and readily accessible to both experts and those who are new to the subject matter.
Where to find Margot Wilson online
Books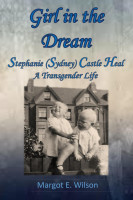 Girl in the Dream: Stephanie (Sydney) Castle Heal, A Transgender Life
by

Margot Wilson
Stephanie (Sydney) Castle Heal is an advocate, activist and elder in the Canadian transgender community. Girl in the Dream is a first person narrative that details Stephanie's transgender journey from male to female. Her dream marks a pivotal moment in her young life when her gender dysphoria made itself manifest. What follows is a candid view into her life prior to and following her transition.
Margot Wilson's tag cloud