Cat Phoenix
Biography
I love long stories I can get lost in, but I like day reads, too.

I read several genres, but for the past few years, I've been mostly interested in paranormal, fantasy, realistic fiction, comedy, new adult, YA, mystery. . . basically anything that's wrapped up in a nice bow with romance, and I'm sold. Not a fan of non-fiction.

I'm a book addict, but I haven't been reading nearly as much lately. Turns out that writing a novel takes time.

I'm currently writing the sequel to Fighting, which will be August's story.
Books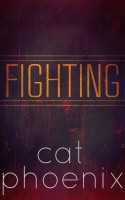 Fighting
by

Cat Phoenix
Alex is an independent twenty one year old college drop out and reformed thief when she meets Brooks. He wants her to join his team of thieves who fight to avenge the innocent, the wronged. Her world is flipped upside down as she comes to care for her new crew, except for the one man she loathes: Ethan. When Alex and her crew's lives are endangered, will she run away or stand up and fight?
Cat Phoenix's tag cloud