Catherine Greenall
Biography
Following a long career as a government scientist Catherine Greenall is now a full-time writer. Her work includes ghost, horror and science fiction. A long-term vegan, she has published a vegan cookbook, Vegans Can't Eat Anything! and a ghost story, Echoes.
Where to find Catherine Greenall online
Books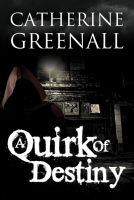 A Quirk of Destiny
A Quirk of Destiny is a chilling look at a world where science is used against rather than for the good of mankind. Calum O'Connell is a scientist at the Department for Food and Environment assessing the safety of new food technologies. Puzzled by a number of incidents involving fellow scientists he soon finds himself caught up in a deadly worldwide epidemic.
Catherine Greenall's tag cloud