Cedric Hendrix
Biography
Regardless of what he's doing, Cedric Hendrix is always listening. He doesn't want to miss the next great riff, chord change, or solo which could come from anywhere. For more than 45 years, music has been the one constant in his life. Hendrix resides in St. Louis, Missouri, but is rapidly becoming an unofficial resident of Chicago, Memphis, and Nashville where he loves to attend concerts in intimate venues and visit record stores. During rare non-musical moments, Hendrix can be found at the movies, on the golf course, or watching his beloved St. Louis Cardinals play baseball.
Books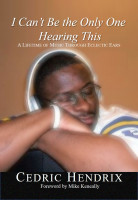 I Can't Be the Only One Hearing This
by

Cedric Hendrix
I Can't Be the Only One Hearing This is more than a book about music. It is an odyssey: an autobiographical journey through life via melody, harmony, and rhythm. Events mark the passage of time. Hendrix's musical discoveries mark the events.
Cedric Hendrix's tag cloud