Celeste Drolle
Biography
Celeste Drolle sets aside precious little time for writing, and her critics complain that it shows. Celeste shrugs this off, aims her TV remote, and tunes in another telenovela.
* * *
Time for writing or not, she rarely lacks for stories -- a trait, she points out, that she shares with other habitual liars. "Can you imagine if Dick Nixon had written fiction?" smiles Celeste: "I promise to tell the Half Truth, the Twisted Truth, and nothing resembling the Truth."
* * *
Pressed about the unlikely likeness of her publicity photo, she mumbles something inaudible about the British Museum, face lifts, and "what's a girl to do?"
* * *
In pursuit of her promise to write longer fiction one day, must her ravenous appetite for C movies, hush puppies and libidinous living be curtailed? "I have often worried that advancing age might trim my sails," muses Ms. Drolle. "Lordy, how mistaken can a body can be?"
Books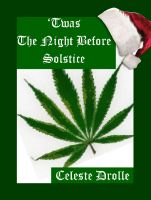 'Twas the Night Before Solstice (Southern Oregon Style)
by

Celeste Drolle
(5.00 from 1 review)
A rollicking spoof on the old chestnut "A Visit From Saint Nicholas" (aka "Twas the Night Before Christmas") by Clement C Moore. Join a rural-dwelling marijuana farmer and his family as their speeded-up distributor arrives in a Jeep pulled by eight snarling pit bulls. Chuckle as the scrawny fellow tumbles down the stovepipe to do business while the ol' lady and the chilluns snore. (18+ please).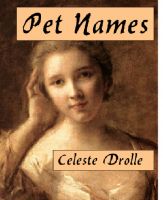 Pet Names (A Short Story, Oh So Sad ... yeah, right)
by

Celeste Drolle
Start with two cups of Southern bosom-heaving romance. Stir with an ounce of Douglas Adams' "Hitchhikers Guide" sci-fi. Fold lightly with a shiny blue roadster that apparently hatched from an egg. Cook it over the flames of fondness between Amanda and Sergei. (Oops! ... I meant to say "Miss Backseat Pleasure" and "Shoogie.") -- and have a little fun.
Celeste Drolle's tag cloud