Chantelle Azach
Biography
Chantelle Azach lives in Charleston, SC with her two sticky-faced boys, fellow-nerd husband, two spoiled dogs, one mischievous cat and two lizards that she refuses to touch. When she isn't helicopter-momming her kids or channeling her inner-nerd by writing stories, she enjoys painting with acrylic, digital photography and reading sappy love stories. She has an old soul and is a hopeless romantic that refuses to conform. She hates the beach, but loves the sun and would rather eat a bowl of pasta than a salad. She doesn't like to sweat the small stuff, unless of course it's first thing in the morning pre-caffeine, and believes you should play in the rain whenever you get the chance.
Books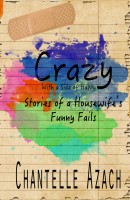 Crazy, With a Side of Happy: Stories of a Housewife's Funny Fails
by

Chantelle Azach
Chantelle includes you on her journey of learning how to navigate the excitement that is stay-at-home-motherhood. She quickly learns that while she is artsy, organized and great at conversation, she isn't particularly domesticated. Laugh with her as she jokes about feeling less and less like a successful, smart woman and more like Amelia Bedelia.
Chantelle Azach's tag cloud