Charlene Newcomb
Biography
Charlene Newcomb. Char. That's me.

Mainstream drama and historical fiction have me under their spell these days, but it wasn't always that way. When I was a kid, I wanted to be an astronaut. I ended up with a degree in U.S. History - math and physics were not my friends. I fulfilled my desire to walk on the moon and travel to distant planets by writing about adventures in space. And the SciFi stories I've published have spies, which I attribute to my 5-year career as a communications technician/voice language analyst in the U.S. Navy.

All of these influences carry over into my mainstream and historical fiction. My family saga, Keeping the Family Peace, centers on the lives of a Navy family in the last part of the 20th century. I have the seeds for a Revolutionary War story germinating on my hard drive. (That degree in U.S. History is going to come in handy.) My current project follows 12th century soldiers through the ordeals of the Third Crusade.

Sometime soon, I hope to turn my eyes outward once more and write about galaxies far far away.

Librarian by day.
Mom to 3 grown, amazing children.
I live in Kansas. Yes, Toto. Kansas.

Welcome to my worlds.
Books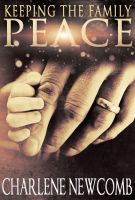 Keeping the Family Peace
By
Charlene Newcomb
Price:
$4.99 USD.
Words: 89,750. Language: English. Published: December 26, 2012. Category: Fiction
Deprived of his father's love and approval growing up, a history scholar must convince his aging father to reveal family secrets. The revelations will either tear them apart or allow him to become the man his father was never able to be.
Charlene Newcomb's tag cloud