Charles Bloom
Biography
In 1983, Apostle Charles and Deborah Bloom founded the New Testament House of Prayer in Anchorage, Alaska and served as Senior Pastor's for seven years. Immediately following in 1991, he and his family relocated to Fayetteville, North Carolina, re-establishing New Testament House of Prayer and serving seven additional years.

Upon entering a transitional season, the Blooms connected with Parks Chapel Free Will Baptist Church (now Kingdom Impact Global Ministries) and served under the leadership of Apostle William T. Ford Sr. until they would be sent out six years later.

In March 2001, Charles Bloom became the Senior Pastor of St. Matthew's Chapel Free Will Baptist Church in Eastwood, North Carolina. At the leading of the Holy Spirit in April 2008, he obeyed Jesus' command, "follow me", and founded Kingdom Minded Ministries International (KMMI) in Southern Pines, North Carolina. He has been serving as Senior Pastor there since that time, where they are dedicated to demonstrating God's love for His people by drawing the lost, broken, rejected, abandoned and abused into a place of restoration, hope and healing. He continues to guide the spiritually blind into the knowledge of the one true living God and a deeper understanding of His love. Through the good news of Jesus Christ, he continue to teach the people to obey "the great commission" to go ye therefore into all the world, making disciples of all nations, baptizing them in the name of Jesus, all for the Kingdom Of God.

While serving as pastor of Kingdom Minded Ministries, Charles and Deborah and the Kingdom Minded Ministry team has sent missionaries to Belize, Mexico and Bridge of Hope Ministries, Lira, Uganda, Pastor James Odeke. The Kingdom Minded Ministry family supports a mission orphanage in Kenya, Kenya Mission, Pastor Dama Nyabesa, Kisii Kenya. Pastor Charles and Deborah along with the Kingdom Minded ministry family helps support transient students and their families from the Moore County High Schools with non-perishable food supplies.

In Oct 2015 Apostles Charles and Deborah Bloom founded Kingdom Minded Covenant of Churches and Ministries, (KMCCM). Serving as Senior Apostles and Overseers of 6 Churches, one in Greensboro, NC, two in High Point, NC, one in San Antonio Texas and two in Southern Pines, NC.

The Bloom's passion transcends ALL barriers and is summed up in their motto, "Loving God -Loving People - Make Disciples"! They also understand with great depth the incredible anointing that is upon this generation and why Satan has attacked it so. They possess the ability to relate to all ages, men and women, the hurting and despondent while bringing their own motivating personality into every aspect of ministry.

Apostles Charles and Deborah Bloom have been married for 38 years. They are proud parents of five children Keith, Letachia Sloan (John), Timothy, Charles, Jr., and David (Jasmine) and 11 grandchildren.

They are consumed with a desire to see heaven invade earth through a people with a Kingdom lifestyle and the ability to host the presence of God, thus fulfilling the phrase. "Thy Kingdom Come, Thy will be done in earth as it is in heaven."
Books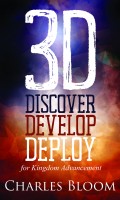 3D Discover, Develop, Deploy
by

Charles Bloom
Price:
$7.99 USD.
Words: 15,200.
Language: English.
Published: August 15, 2016
. Categories:
Essay
»
Author profile
The greatest revelation of thought, the greatest mystery to unfold, the greatest precept that could be understood is PURPOSE! Let's see in 3D
Charles Bloom's tag cloud