Charles Clotfelter
Biography
Charles Clotfelter was born into a military family and lived the first twelve years of his life in Southern California. Thereafter, he relocated with his father, first to New Mexico and later to Virginia. After graduating from a military academy in Virginia, he began traveling on his own, furthering his education in Utah, New York, and Hawaii; as well as spending time in the Bahamas, Mexico, and Thailand. People he chanced to meet and situations wherein he often found himself, provided a basis for many of the ideas used in the structure of We Aquatus.
Where to buy in print
Books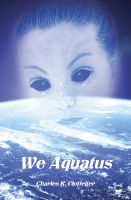 We Aquatus
by

Charles Clotfelter
"I am not from this world, said the tiny alien. "We Aquatus have been visiting Earth for 10,000 of your years using satellites to observe. There was no need to make our presence known, but now humankind has reached a point in its evolution where 75% of all life of this planet will be abolished within 80 years. You cannot save yourselves or this planet without our help.
Charles Clotfelter's tag cloud