Charles Ryan
Biography
Charles M. Ryan built an incredible pedigree in fantasy and speculative worlds over his two decades in the games industry. During that time he designed, wrote, and illustrated card, miniature, and roleplaying games, from hit brands such as Dungeons & Dragons and Star Wars down to niche indie hits such as Millennium's End and Psychosis. He also spent some time on the business side, running the gamut from operating his own independent publishing house to serving as Brand Manager for the grandfather of hobby and computer gaming, Dungeons & Dragons. His exploits have taken him from Virginia to Los Angeles to Seattle to southern England, but he now resides in the Kansas City area with his lovely wife, two awesome kids, a dog, a cat, and two rats.
Where to find Charles Ryan online
Books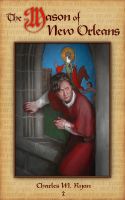 The Mason of New Orleans
by

Charles Ryan
Life in the Middle Ages can be tough. Nasty, brutish, and short, as they say. War, famine, torture. Plague and intolerance. People getting burned at the stake and all that. And nobody speaks English. All of which sucks if you're from the 21st Century.
Charles Ryan's tag cloud