Charlie Steel
Biography
Charlie Steel, Tale-Weaver Extraordinaire, is a novelist and internationally published author of short stories. Steel credits the catalyst for his numerous books and hundreds of short stories to be the result of being a voracious reader, along with having worked at many varied and assorted occupations. Some of his experiences include service in the Army, labor in the oil fields, in construction, in a foundry, and as a salvage diver. Early in his life he was recruited by the US Government and spent five years behind the Iron Curtain. Steel's work has been recognized and reviewed by various publications and organizations including Publisher's Weekly, Western Fictioneers, and Western Writers of America. Steel holds five degrees including a PhD. He continues to read, research, and collect western literature. He is the author of Desert Heat, Desert Cold, and Other Tales of the West. Charlie Steel lives on an isolated ranch at the base of Greenhorn Mountain, in Southern Colorado.
Where to find Charlie Steel online
Books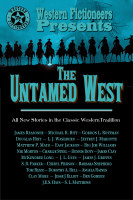 The Untamed West
by

Western Fictioneers

,

L. J. Washburn

,

Jeffrey J. Mariotte

,

S. D. Parker

,

Nik Morton

,

James Reasoner

,

Clay More

,

McKendree Long

,

J.E.S. Hays

,

Michael R. Ritt

,

Jesse J. Elliot

,

Matthew P. Mayo

,

Big Jim Williams

,

Easy Jackson

,

J. L. Guin

,

James J Griffin

,

Cheryl Pierson

,

Tom Rizzo

,

Dorothy A. Bell

,

James Clay

,

Ben Goheen

,

Barbara Shepherd

,

Gordon Rottman

,

Charlie Steel

,

Angela Raines

,

Douglas Hirt

,

Dennis Doty

, &

S. L. Matthews
A collection of twenty-nine tales of the Old West featuring previously unpublished stories by such classic Western writers as James Reasoner, Douglas Hirt, McKendree Long, and Michael R. Ritt, and many more. Western Fictioneers is the only writers' organization devoted solely to traditional Western fiction, and this huge collection will take readers on a action-packed ride.
Charlie Steel's tag cloud