Chase Morgan
Biography
Chase Morgan is your average guy with a mind that tends to drift while out to dinner with friends or during meetings. His wayward thoughts vacillate between naughty things that could be done in public to pondering whether Sasquatch jerks off in the woods. Mr. Morgan's friends are far from boring; he's just really good at multi-tasking. He began writing erotica for his wife while away on business trips. As his muse and biggest supporter, she encouraged him to take a stab at sharing his unruly mind with the world. She doesn't wonder about Sasquatch's masturbatory habits, but she is great at humoring him when his mind takes off in the woods. His current works can be found in "The Sexy Librarian's Big Book of Erotica," "The Dirty Thirty," "Desire Behind Bars," "Tonight She's Yours," "For the Men," "A Slice of Sin," and a couple episodes on Rose Caraway's "The Kiss Me Quick" Podcast.
Where to find Chase Morgan online
Books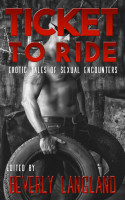 Ticket to Ride
by

Beverly Langland

,

Lana Sloan

,

Annabeth Leong

,

Harley Easton

,

Wade Beauchamp

,

Corbin A. Grace

,

Andrew Scott

,

Chase Morgan

, &

Jenny Rainbolt
Delve into the minds of nine authors and let them take you for the ride of your life into the world of sex on public transport. Whether it's trains, planes, cars, buses, trams or ferries, a combination of confined interiors and restricted spaces leads to erotic contact and hot and steamy sex. Whatever your fantasy, these erotic short stories will leave you eager to plan your next journey!
Chase Morgan's tag cloud